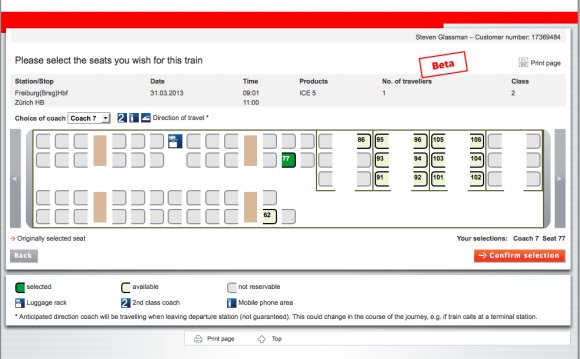 Service on board
On board of all Intercity-Express (ICE) a PA system provides information about the next stop and available connections. "Ihr Reiseplan", the information leaflet, which you can find at your seat, also features the available services and connections. For further questions or any doubts please don't hesitate to ask our friendly service crew. They will gladly help you with any questions or requests. Do you need taxi or porter services at the train station? Inform our DB service crew on board, and a taxi or a porter will then be waiting for you arriving at your destination.

If you want to visit e.g. our BordRestaurant during the journey you can leave your luggage in one of the Intercity-Express (ICE) lockers in the vestibules. After removing your luggage the deposit will be returned to you. Some first class cabins feature individual video screens at the seat. Almost all 1st and 2nd class seats have an integrated audio connection. Choose between three radio stations and the Intercity-Express (ICE) programs which feature classical music/jazz, rock/pop and the children's channel and have a relaxed journey listening to your favourite music.
Gastronomy in the ICE train
On every Intercity-Express (ICE) train there is a Bordbistro and/or Bordrestaurant offering a great variety of meals and drinks. Sip a freshly tapped beer or enjoy a gourmet platter of French cheeses while you are travelling to your destination. Depending on the time of the day, you can choose from various breakfast menus or from à la carte main dishes. Additionally, the menu often features German and European regional specialities. We also recognize how important it is to maintain a healthy lifestyle, therefore DB Bahn Bordrestaurant cars offer a selection of organic products, marked in menus on board. The Bordbistro serves snacks and a variety of beverages which you can consume there or take back to your seat. As 1st class passenger you have the option to request a selection of beverages and meals from our menus to be served at your seat. Snacks and beverages are also available at your seat in 2nd class.
The Intercity-Express (ICE) Sprinter
On top of our ICE network the ICE Sprinter trains offer practically non-stop connections between major German cities. The Berlin-Frankfurt and Hamburg-Köln ICE Sprinters cut down travel time by roughly one hour, saving you precious time. Another Sprinter service is available from Hamburg to Frankfurt. The ICE Sprinter is perfect for business travel or commuters seeking to maximize their time in both cities. Fees are minimal; only 11.50 euros more in 2nd or 1st class, making the sprinter a convenient choice for your next trip.
Intercity-Express with tilting technology (ICE T)
On 30 May 1999 DB introduced the Intercity-Express with tilting technology (ICE T), equipped with the proven electro-hydraulic tilting technology of Alstom-Fiat, which has been in successful operation in Italy for many years. This system means that the train tilts into the curves by up to 8°, which allows it to travel at 30% higher speeds in curves. Needless to say, this in no way impairs safety or comfort for the passengers.

In addition to the special services that are offered in all Intercity-Express (ICE) trains, we have implemented additional quality characteristics such as power connectors (e.g. for laptops) to almost every seat, electronic reservation ads and a special infant cabin with playing area, which can be reserved at the counter in our DB Reisezentrum or at the ticket vending machines at the train station.
WiFi on board and at DB Lounges
Travel with DB Bahn and make your time work for you! Travel at high speed and use enhanced cell phone and wireless reception at many Intercity-Expresses (ICE). Furthermore the convenience does not stop when you leave the train; you will also find it at the station. 1st class passengers with valid 1st class point-to-point rail tickets have the opportunity to use our exclusive DB lounges, which are located at the 15 most important stations in Germany. There you can enjoy the quiet atmosphere, relax or use the time for work with wireless Internet access. Find out more about WLAN on ICE trains and at DB lounges!
See also:
Source: www.bahn.com
Share this Post