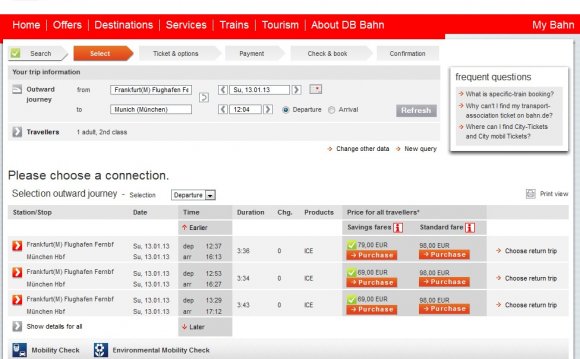 On the platforms by night
Frankfurt am Main Airport long-distance station (German: Frankfurt am Main Flughafen Fernbahnhof) is a railway station at Frankfurt Airport in Frankfurt, Germany. It is served by long-distance trains, mostly ICE services running on the Cologne–Frankfurt high-speed rail line. It is the largest railway station serving an airport in Germany with about 23, 000 passengers each day. The station is served by 210 long-distance trains daily, of which 185 are Intercity-Expresses. It and Limburg Süd Station are the only railway stations in Germany that are served exclusively by long-distance trains.
The station was opened in 1999 as part of the first part of the Cologne–Frankfurt high-speed line; the great majority of the high-speed line opened in 2002. It is 660 m long and 45 m high. It features a large dome containing a lounge area and a ticket hall, and is connected to the airport by a skyway that crosses the Autobahn 3. The Squaire, a one-billion-euro complex containing office space, hotels, convention centres and other facilities, has been built above the station. Nearby is Frankfurt Airport regional station which is located beneath Terminal 1 of the airport and which provides local S-Bahn services to Frankfurt, Wiesbaden and Mainz.
Design and location

[edit]

The station is located between the Frankfurter Kreuz Tunnel—which runs under the Frankfurter Kreuz, an important autobahn interchange in the east, connecting toward Frankfurt Central Station and Mannheim, and Kelsterbacher Spange (Kelsterbach Link) Tunnel in the west, the beginning of the high-speed section of the new line.

The 660 metre long and up to 55 metre wide station building was designed by BRT Architects (Bothe, Richter, Teherani). After nearly four years of construction, it was opened in 1999. The entire station is glazed on the outside and appears to be open. The upper deck is at a height of 12.5 metres and is composed of a 30 centimetres thick reinforced concrete slab with an area of about 34, 000 square metres. The slab is supported by steel beams, which transfer their loads on to 4.5 metre thick trusses. These span across the railway station with a maximum span of about 50 metres and are 15 metres apart. The trusses are designed to support a building that is up to eight storeys high. The maximum load capacity of the reinforced concrete slab is 700 kilograms per square metre.

Until early 2007, the station was located in the middle of a large trench covered only by the biaxially curved glass dome. This has a maximum height of 15 metres, a length of 135 metres and a width of 40 metres.

The station has two island platforms, which are each served by two tracks. The platform tracks are numbered "Gleis 4" (long-distance 4) to "Gleis 7", continuing on from platforms 1 to 3 of the existing regional station opened in 1972. Trains scheduled to use platform tracks 6 and 7 run toward Mainz and Cologne, while platforms 4 and 5 are used for services toward Frankfurt Central Station, Frankfurt South station or the Mannheim–Frankfurt railway toward Mannheim. The only scheduled services stopping at the long-distance station are long-distance trains.

The long-distance station is located about 200 metres from Terminal 1, between the Autobahn 3 and the Bundesstraße 43, which both run parallel to it on either side of it. A 200 metres long and up to 80 metres wide walkway was constructed to connect the station building to Terminal 1. This supports footpaths and moving walkways, check-in counters, baggage screening and various shops.

See also:
Source: en.wikipedia.org
RELATED VIDEO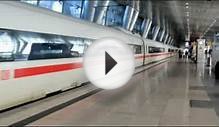 ICE Train Departing Frankfurt Airport Railway Station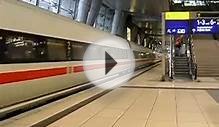 ICE T departing from Frankfurt Airport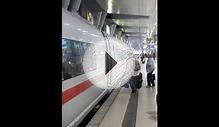 DB ICE Train at Frankfurt Airport
Share this Post