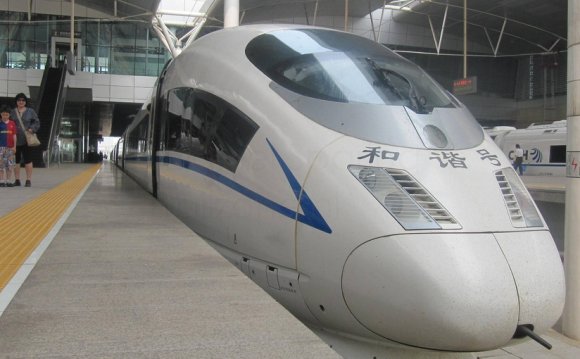 Intercity is the second-highest train classification in Germany, after the ICE. Intercity services are loco-hauled express services, usually over long-distances. There are Intercity routes throughout Germany, and routes generally operate with a two-hour frequency, with multiple routes giving a more frequent service on core routes. Intercity services are operated by the DB Fernverkehr sector of Deutsche Bahn.
The Intercity name was introduced in Germany in 1971, replacing the old F-Zug category, and was the top category of train in Germany until the introduction of the ICEs in the early 1990s. With the proliferation of ICE services, the role of IC trains has diminished slightly, and they have taken on the character of many former InterRegio trains. Nonetheless, Intercity trains still offer a very high standard of speed and comfort – all services convey first class accommodation, and most include catering – usually a Bistro Cafe, but some services include a restaurant. A number of Intercity services serve destinations outside of Germany; most of these are under the EuroCity classification.
Inception[edit]
The Intercity logo, in use from 1971–1991 The original Intercity network
The idea for Intercity services on the Deutsche Bundesbahn network was first proposed in 1967, inspired by the success of British Rail's InterCity brand. After some planning, the proposal was approved in 1969, and the services were finally introduced in September 1971, after some delays in delivery of new coaching stock. The original network consisted of four lines, operating every two hours, and connecting the largest cities in West Germany. At this time, Intercity trains were first-class only. The original lines were:
Line 1 (red): Hamburg-Altona – Bremen – Münster (Westf) – Dortmund – Essen – Duisburg – Düsseldorf – Köln – Bonn – Koblenz – Mainz – Mannheim – Heidelberg – Stuttgart – Ulm – Augsburg – Munich
Line 2 (blue): Hannover – Bielefeld – Hamm – Dortmund – Hagen – Wuppertal-Elberfeld (– Solingen-Ohligs) – Köln – Bonn – Koblenz – Wiesbaden – Frankfurt (Main) – Würzburg – Nürnberg – Augsburg – München
Line 3 (green): Hamburg-Altona – Hannover – Göttingen – Fulda – Frankfurt (Main) – Mannheim – Karlsruhe – Freiburg (Breisgau) – Basel
Line 4 (gold): Bremen – Hannover – Göttingen – Bebra – Fulda – Würzburg (– Ingolstadt) – Munich
Gradually, the Intercity network started to expand, and with the introduction of the Class 103 locomotives, 200 km/h running was possible. Services were increased in frequency to hourly, and second class accommodation was provided – in 1979 this was promoted with the slogan "every hour, every class".
Additionally, there is also another new line 5, running from Dortmund to Munich. It was opened since 2 May 1985.
Traffic stats
Source: en.wikipedia.org
RELATED VIDEO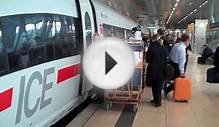 German ICE high-speed trains at Frankfurt Airport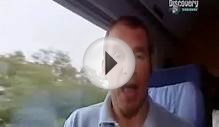 Tilting German Ice Train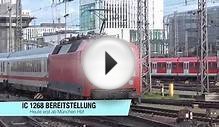 German ICE High Speed Trains at Munich Main Station (16.10 ...
Share this Post